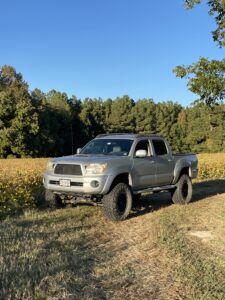 Our connection with the outdoors goes well beyond fishing lures and shotgun shells.
That said, our strong connection with nature is deeply rooted in knowing God orchestrates what we admire most: the amazing sunsets that glow across distant horizons, the animals that lurk within tree-lines, and the waters that trickle in the background as we meditate on the big mystery we call Life.
As we look around today, however; we're perplexed. Because we see a lot of abnormal conditions. Seems like America is oozing with more sin than when we were kids.
Sadly enough, the majority of the population declines reading words that confront sinful-nature. Because many people want to think they have complete control of their life.
But you are not in total control. And to think you are, you lack obedience. Keep reading…
For most of us within the CVA Outdoors community, we grew up in a family-first, southern-lifestyle home. Meaning, many of us were fortunate enough to be primed, at an early age, with the knowledge that God runs the show. Even more, we know God's son, Jesus Christ, is King. And we also know that EVERY man will bend the knee to Jesus. The scriptures tell us this.
With that said, here at CVA Outdoors our bottom line contribution to the outdoor dialogue is salvation and speaking on man's broken condition. And we're not ashamed to do it along with many other practical, down-to-earth voices across this great nation.
On that note, this world we trudge through is non-redeemable, no matter how many politicians, global authorities or social activists try to convince us they can fix the world's problems. Because at the end of the day, the only thing that needs to be fixed is man's condition. And that starts with every man and woman loving God and their neighbors as themself.
The Truth is in front of you. And we simply want to encourage you to seek a relationship with Jesus, now. All it takes is having the willingness to deny your self and become obedient to God. And if you're not into reading scripture, we're telling you now; When Christ's returns, He says He will come as a thief in the night. So be prepared.
On your next walk towards the tree-line, or jon-boat journey across the lake, always take the time to honor our King and repent. Because, again, fixing a non-redeemable world is not the issue at hand. The real issue is repairing the hearts of broken-men.