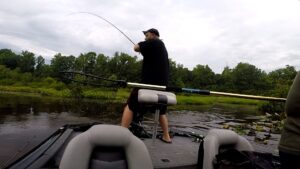 Lee Lake, also known as Nottoway Lake, is a body of water located out in Amelia, Virginia off Route 153. Lee Lake is somewhat of a secret to most Virginia bass fisherman. So know it's another option if you're searching for less-pressured fishing holes.
It can be a challenge bass fishing Lee Lake. The water is filled with submerged structure and if the water is low, expect a rough ride; you will glance off stumps frequently.However, there a lot of deep water. But as far as the way we like to fish Lee Lake; we tend to lean towards the more shallow areas because the topwater bite can get nasty in the summer.
In this video we rolled out to Lee Lake early in the morning. Moseley actually screwed the pooch and woke up late. But Moseley and Lutz met up at the boat launch around 6am whereby Lutz had already broke the ice with the topwater bite. He was already on track with the plan: catch bass on the frog.
Once Moseley stepped on the boat the two men trolled to the back of the lake. In our opinion, especially on a dank muggy morning, the very back of the lake produces the best top-water bite. The lake runs real shallow in the back and there is a lot of vegetation and grass. There are massive root balls from fallen, timbered trees floating around as well. These root balls offer a lot of opportunity; they tend to act as strong holds for bass.
Once we reached the very back we turned the boat around and hugged the right-side bank lines. With Lutz on the foot-controlled trolling motor moving at a snails pace, Moseley worked the vegetation and floating root balls we mentioned earlier. Moseley, as always, worked a black and blue Lunkerhunt Kraken series frog. He would cast ahead of the goat, let the frog float and implement soft-touch series of three-twitch retrieves.
As you can see in the video, it didn't take too long for Moseley to find a nice bass hanging out in the floating structures at the back of Lee Lake.