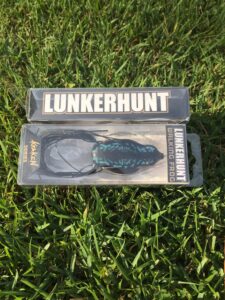 This is the go-to bait Clay Moseley reaches for on any given overcast-weather day. If there is anything Moseley specializes in it's fishing the frog and he would never steer you wrong.
That said, this specific frog has put more bass in the boat more than any other here at CVA Outdoors. The only draw back to the bait is the belly button on the frog. You'll notice that after a series of big bass bust this bait's ass, the belly button on the frog will become weak. This allows for water to fill up the hollow frog. The frog will longer work properly once this happens.
But the belly button of the frog is only a small price to pay when you know how well the frog works. We just make sure we have about five of them on the boat. Tackle warehouse doesn't have the black and blue model in stock, but you can buy the Lunkerhunt walking frog in other colors if you want to see what they offer. We also like the green-top, white bottom version of the frog.
What maks this little frog the best is the tassle legs. Just a flinch on your retreive kicks the frog in such a natural way that lurking lunkers can't help but get a better look.